Hello readers! :)
Over at a Holy Experience [a blog I love], she encourages bloggers on Mondays to list a few things your thankful for-with the goal of getting to 1000 things. Here is my first Monday, listing all the things I am so grateful for!
"Sing unto the LORD with

thanksgiving

; sing praise upon the harp unto our God" Psalm 147:7
0001. First of all, my Heavenly Father. The Creator of the universe.
0002. My amazing family! I am so blessed to have such a loving, caring family!
0003. little babies!
0004. God's awesome creation, and all of nature.
0005. His Word
0006. laughing-giggling of little girls-and gurgles of babies :)
0007. My Father's love, compassion, and mercy to me, even though I don't deserve it!
0008. Clean floors, made beds, strawberry jam.
0009. friends who stick by me through everything-and understand me. A gift from Him!
0010. books that help me to grow in the Lord, and encourage me to live a fuller life for Jesus!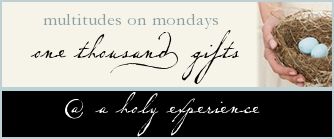 Phil 4:8,
kate-lynn